Horror Stories, my new show at ThreeWalls in Chicago, opened on Friday. The Sparkling, an interactive video installation, is the highlight – shown above and below. The haunted chandelier gets eerier as visitors approach, a reference to chandeliers in films like The Amityville Horror, and also non-horror films like The War of the Roses. Thanks to the wonderful artists and administrators at ThreeWalls for all their support, especially Shannon, Lucy, Elizabeth, Andy, and Liz. Also to Josh Rose and Cesar Cornejo who helped me in New York with programming and putting together the chandelier.
Also on view are:
TV = Evil which juxtaposes little girls and TVs from Poltergeist and The Ring. Playing on a TV in a room all alone, it's creepy.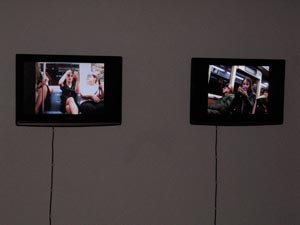 Vamp it Up, a companion piece to Horror Make-up, filmed on the Chicago elevated train. More info about this work in my Performance section. Special thanks to Beckley Roberts and Liz Hood who secretly filmed these performances, and to Elizabeth for driving me half way around town in search of fangs, size XS.
Everyone Will Suffer, an animation featuring taglines recited from popular horror films and a low-fi animated country sunset.