My solo show in Vancouver opened at Third Avenue Gallery on May 1, and will run through May 31. Minutes by foot from Granville Island, Third Avenue was awash in pink from blossoming trees all last week.
Including work from the past five years which can best be described as culture-jamming, the exhibition also features 2 new videos, Superfan and Staring Contest with Brad Pitt. I finished editing the latter a couple of hours before the show opened, the video equivalent of hanging a wet painting. The sweat was dripping from my brow.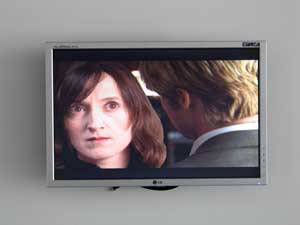 From the press release:
"Superfan stars Jillian Mcdonald riding in vehicles with costars Billy Bob Thornton, Vincent Gallo, and Donald Sutherland. Despite their attempts at conversation, the trio of male leads cannot shake her concentration on the Superbowl game. Staring Contest with Brad Pitt finds Mcdonald and Hollywood's leading heartthrob locked in an endless gaze of a familiar childhood game. In To Vincent with Love"Mcdonald inserts herself digitally into scenes from Vincent Gallo's film Buffalo 66" playing the ingénue opposite his socially awkward male lead. In Me and Billy Bob, she digitally manipulates romantic scenes from Hollywood films starring actor Billy Bob Thornton, creating a soft critique of celebrity obsession."
Thank you to Michael Bjornson and Camille Graham for all their support and hard work on the installation!