Joe Ryan, intern extraordinaire at The Headlands Center for the Arts, models his LRG "Friday the 47th Hoody", haha. Lest you think the designer got the slashers mixed up, "wasn't Leatherface the Chainsaw maniac?", think again – this is progress. By the time Jason Voorhees gets to sequel #47, which if you are young enough may happen in your lifetime, he will figure out the effectiveness of power tools and leave his machete and axe behind. Big Daddy, lead zombie in George Romero's Land of the Dead, used a jack hammer in 2005 to hurl his way through shopping mall glass where his 1978 predecessors in Dawn of the Dead merely pawed hungrily at the doors until they opened and they lumbered in. If a zombie can evolve, Jason can too. After all he went from wimpy preteen mamma's boy to strapping youth to a hulk of a man in merely a decade.
He's looking mighty powerful in this 1989 interview with Arsenio Hall to promote Friday the 13th Part VIII: Jason Takes Manhattan:
Check out the detail on the appliquéd chainsaws. The mask also detaches to reveal bloody drips inside the hood, if you don't feel like wearing the slasher mask on a given day. This reminds me of a reversible Red Riding Hood/Granny/Big Bad Wolf doll of my childhood. And here I am in the dark foggy woods surprising myself by sleeping deeply and soundly not even afraid of big bad wolves.
Speaking of dolls and zombies, you might not expect someone who knits to be a horror fan, much less take horror as their craft subject. But knitting isn't just for tea cozies and sweaters anymore! Ms. Hannah Simpson of the UK skillfully knits the cutest zombies I've seen – blood and maiming included – snuggle up with that!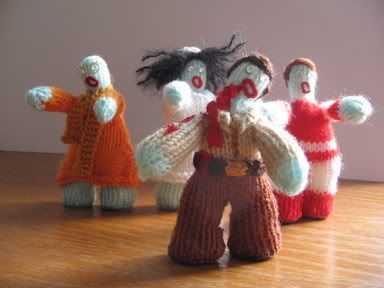 Knitted Flyboy and fellow zombies from Dawn of the Dead.