This will be a summer of hot-blooded romance for vampire fans everywhere.
June 10th marks the release of Eclipse, the third in the Twilight series – and those folks don't waste any time. If the trailer is any indication there will be much pouting and much swooping over majestic Northwestern mountain scenery. Edward's perfect vampire eyebrows once again go head to head against werewolf-next-door rivalry. How is a (mere mortal) brunette to resist?
Hot on those heels on June 13th (coincidence?) the Southeastern variety vampire shapeshifting saga True Blood, starts up for season three and if you really can't wait you can watch the production videos, which take the bite out of pretty vampire boys William and Eric fighting over the (fake) blond living object of their undying affections.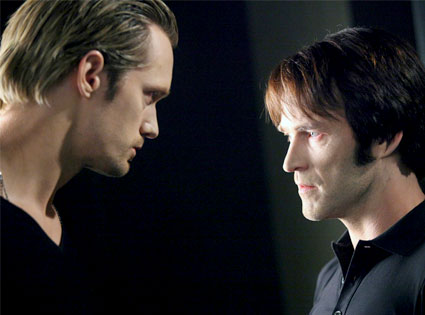 Speaking of eclipses, Bonnie Tyler in her 1980s video Total Eclipse of the Heart, looks mighty vampirical as we storm through 2010.
And this just in via Flavorwire's interview with Mary Gaitskill,
Why do you think vampires are so prevalent in popular literature right now? What does it say about our desires?

~I think they are perennially popular. They're very sexual. I think people have a fear and fascination with sex as a form of devouring, especially psychic devouring. There's also a feeling of people starving for deeper life, like blood. The feel empty and they want to find something to suck. Vampires express out need for substance, closeness, and intimacy.
Oh Nosferatu, you poor out-dated creepy monster.