From the Valley of the Deer
2014
From the Valley of the Deer is an augmented reality artwork based on Valley of the Deer, a video installation produced in Scotland in 2013. Masked figures populate romantic landscapes. In each city where the video is exhibited, local sites are haunted by characters and scenes from the artwork, discoverable on walking tours. sThese apparitions may also be stumbled upon as *Points of Interest* by passersby.
• a 2013 commission of New Radio and Performing Arts, Inc. for its Turbulence web site. Made possible with funding from the Jerome Foundation.

launch From the Valley of the Deer in a new browser window
Horror Stories
2012
Horror Stories enables an interactive and collaborative film-making experience. The work is a contemporary update and visual equivalent to ghost stories told around a campfire. Visitors to the site can watch custom films, contribute video clips, write and read stories, and share the results.
• website produced in part thanks to a grant from Verizon's Thinkfinity Initiative, Pace University, and Terminal@APSU
code - Julie Gill

launch Horror Stories in a new browser window
Zombies in Condoland
2008
Zombies in Condoland is a performance for Nuit Blanche Toronto (Oct 4, 2008), curated by Gordon Hatt, which is the spectacle of a zombie film shoot. The website is created to invite participation and give information to prospective zombies
• website produced in residence at La Chambre Blanche in Québec City.

launch Zombies in Condoland in a new browser window
SnowStories
2005
Snow Stories is a story engine, which uses appropriated and original film clips, images, animation, and sound stored in a database to translate the viewer's written story into a visual narrative.
• produced in residence at Harvestworks in New York, with additional funding from The Canada Council for the Arts, The Experimental Television Center, and Pace University
• exhibited in New Data at Harvestworks, NYC; FILE (Festival of Electronic Language) in Brazil; and Fringe Exhibitions in L.A.
launch www.jillianmcdonald.net/snowstories in a new browser window
Screen Kiss
2005
A conceptual sequel to Me and Billy Bob, Screen Kiss aims to make Billy Bob, the object of desire, jealous by showing glimpses into the artist's romantic moments with other actors. <more info>
• commissioned by Soil New Media • in the collection of ComputerFineArts.com
launch www.soilmedia.org/screenkiss/ in a new broswer window
Stand By Your Guns
2004
Stand By Your Guns glorifies and vilifies the handgun, masquerading as a children's fun centre. Visitors can watch gun-TV, play games, visit Charlton Heston via webcam in his rest home (when available), colour pictures of guns, and print out their own slogans onto iron-on fabric for t-shirts. view screen shots
a 2004 commission of New Radio and Performing Arts, Inc., for its Turbulence web site. This project was made possible by a grant from The Jerome Foundation.
• featured at BananaRAM 2004 in Ancona Italy; New Forms Festival in Vancouver, BC; Festival Internacional de Arte Electronico 404 in Rosario, Argentina; the Sundance Online Film Festival in Park City, Utah; Manif d'Art 3 in Québec City; and The Seoul Net Festival in Korea.
launch www.turbulence.org/works/mcdonald/ in a new browser window
Me and Billy Bob
2003 - present
In Me and Billy Bob I have inserted myself into existing film clips as the recurring object of actor Billy Bob Thornton's affection. Unlike a fan site, it does not promote information and facts about the star's personal or professional life but rather my romantic obsession with the actor's persona. The ultimate goal is of course to attract its subject himself.
• with support from The Canada Council for the Arts and Pace University • shown at The Bronx Museum of the Arts, New York; La Centre d'art Contemporain de Basse-Normandie; Video Pool, Winnipeg
• website includes temporary tattoo project for Billy Bob fans.
launch www.MeAndBillyBob.com in a new browser window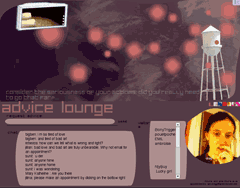 Advice Lounge - - ONLINE BUT NOT CURRENTLY ACTIVE
October 2002
Visitors are invited to receive free, non-professional advice while relaxing in their chosen lounge. "Make an appointment and schedule a webcam advice session".
• produced for Vidéographe's Ancrage project, with Vitamin B, in Montréal, featured on Rhizome.org • live performance at ISEA 2004, Talinn Estonia; Spasm Public Art Festival, Saskatoon; and New Forms Festival Vancouver, BC
launch jillianmcdonald.net/projects/advice in an new browser window
Ivy League - - CURRENTLY NOT ONLINE
Summer 2002 • collaboration with Kelty McKinnon
Ivy League is an attack on the hyperbole that surrounds English Ivy. Our research is located in the diversity of the Web, yielding the results as a conflicted, bizarre and oft times militant form of nature worship. In all biological life, including human, 'immigrants and foreigners' tend to be the scapegoats for local problems. Invasive species are constantly blamed for the changing 'degraded' landscape, while little attention is paid to patterns of development that set the conditions for these species to thrive.
• produced for StudioXX's (Montreal) Virtual Garden project,
featured on kanonmedia.com (Austria), Rhizome.org; Manif d'Art 3 in Québec City; and "Parkette" project curated by Jenny McMaster in Toronto. Documentation exhibited in Synthesis and Distribution, Experiments in Collaboration at Pace University.
launch www.ivyleagueinvasion.net in a new browser window
Things are Okay - - CURRENTLY NOT ONLINE
April 2002
Things Are Okay is mock media coverage. Within a few months, 4 US planes crashed in linked acts of terrorism, a plane crashed into a residential beach, there were several fatal cases of anthrax, and a 15-year old pilot crashed a plane into a Tampa building. Overriding all of this is a sense of wonder, fragility and absurdity, and a growing feeling that ´things are ok´- like signal, static, and white noise. Many express the comfort of television, like an old friend: who better to tell you the horrible news? There is a desire during wartime to keep count, to stay on top of the situation, to sleep with one eye open.
• produced for Life During Wartime residency, Trinity Square Video, Toronto • featured on Kanonmedia.com (Austria), Rhizome.org, Activist Menu (Emmedia, Calgary), Softform (Hive Projects, Toronto), and Manif d'Art 3 in Québec City.
launch www.hiveprojects.com/softform/jillianMcdonald/OK.html in a new browser window
Home Like No Place
January 2002, ongoing
Home Like No Place is an on-line wonderland somewhere between the Canadian prairies and New York, where the visitor is invited into a 'choose-your-own-adventure' scenario. The colour-symbolism of The Wizard of Oz film populates a non-linear narrative. Hope (gold), freshness (green), poison and magic (red), and innocence (blue) colour the post-industrial landscape. There is no end and no beginning, no resolution and no moral. The visitor is further invited to write their own piece of the story - the story to grows over time.
view screen shots
• produced in residence at La Chambre Blanche Weblab, Québec City. ~featured at La Biennale de Montréal, on dian-network.com (Germany), Rhizome.org, in the exhibition 'Fantascape' at Centre for Art Tapes in Halifax, and at Spaces gallery in Cleveland, OH
launch www.chambreblanche.qc.ca/LABWEB/homelikenoplace/ in a new browser window
Karaoke at the Gene Pool - - CURRENTLY NOT ONLINE
2001
Karaoke for the Gene Pool is a non-linear narrative based on biological (particularly genomic) forms and their relation to the mulitiple and the experimental, to contamination and randomness. An experiment's marginal unpredictability relates to science, nature, and to machine systems and pathways. Loss of control in nature and in technology create intrigue in the 'narrative'. Elements in the project corrupt and leave traces.
• featured at The Irish Museum of Modern Art's Net.Art Open, and Rhizome.org